Professional hardwood floor refinishing in RI homes provides an updated look you're sure to love. Additionally, refinishing helps remove ground-in dirt, scuff marks, and other damage. However, it's vital that homeowners leave this work to professionals or ensure they know how to manage it properly! Improper refinishing techniques can damage or even outright ruin those floors completely.
With this in mind, check out some tips on how to refinish hardwood floors. Also, remember that you can refinish hardwood only so many times before the wood wears down. Eventually, you'll need to replace those planks with new wood flooring or another such choice. In the meantime, note some advice on refinishing those floors properly.
How to Refinish Hardwood Floors in a Rhode Island Home
To address minor scuff marks and damage to hardwood floors, you'll need a lightweight buffer and a vacuum cleaner. Also, check the floor finish packaging to note the best application tool. You'll also need plenty of rags, to touch up splotches! Above all, ensure you use a breathing apparatus, work gloves, and other protective gear.
First, remove all furniture and use a hardwood cleaner on the floors. Second, remove any cleaner with a terry cloth rag. Next, close all the windows so you better control dust as you work.
If you've never used a buffer before, start in the middle of a room and practice for a few minutes. Ensure you can control it properly before starting your work. This ensures you can control that buffer properly once you get close to walls and corners!
Use 180-grit sandpaper and sand the corners of the room by hand. Avoid using a sanding block as this often results in uneven sanding.
Once you've finished sanding around the room's perimeter, vacuum the room thoroughly. Then, attach fine-grit sandpaper to your buffer and work your way around the room. Go against the wood grain and overlap each row by about six inches.
Keep the buffer moving as you work but stop every 5 to 10 minutes to vacuum the floor and the buffer paper.
Once buffed, leave the space alone for about 10 minutes. This allows airborne sand to settle, so you can remove it thoroughly.
Use a clean vacuum filter and canister or bag and vacuum the floor. Ensure you get dust and debris from between floorboards.
Apply a new finish with a paintbrush to the room's edges. Then, use your applicator tool and roll the finish onto the floor.
Refinishing Hardwood Floors: Worth the Cost?
There are many reasons to invest in hardwood floor refinishing in RI homes! One, refinishing removes scuff marks, damaged finish, ground-in dirt, and other unsightly imperfections. Two, refinishing allows you to update the color or shade of finish or paint, for an entirely new look.
Also, note that refinishing is cheaper than replacing old, worn-out floors. Refinishing is also more environmentally friendly than buying new hardwood for your home's floors! Additionally, new finish means added protection against damage, prolonging your floor's overall lifespan.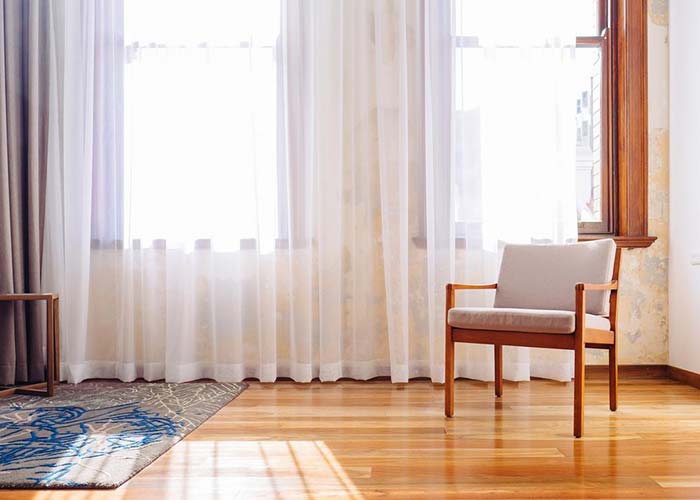 All About Sandless Floor Refinishing
One downside to floor refinishing is that the process usually creates quite a mess! Removing dust while preparing the floors can be a cumbersome, unpleasant task. However, sandless hardwood floor refinishing in RI homes reduces and even ends that mess.
As the name implies, sandless floor refinishing doesn't use a standard sander or buffer. Instead, a contractor uses a specialty machine with abrasive pads and specialty chemicals that help strip hardwood floors. This liquid chemical etches the top layer of wood, just as you would with a standard sander.
A technician then rinses and finishes the floor as needed. However, note that this process offers only a slight touchup. For deep scuff marks and other damage, you might still need to refinish those floors with a standard sander. Your flooring contractor can also recommend the best process for achieving the look you want in your home.
The Difference Between Refinishing and Resurfacing Wood Floors
In home improvement, the term "resurfacing" means to replace or repair surfaces. So, resurfacing wood floors might include replacing severely damaged planks or nails or adding fillers between planks. However, refinishing only includes sanding flooring surfaces and adding a new finish or paint.
Carpet Cleaners of Rhode Island is happy to bring you this information about hardwood floor refinishing in RI homes. Hopefully, you found it helpful in knowing how to manage your floors! If you're in the market for expert floor care, call our Rhode Island carpet cleaning contractors. We offer FREE quotes and guaranteed satisfaction with every job. For more information, contact our carpet cleaners in Rhode Island today!