Regular tile cleaning in a RI home keeps both tile and grout from discoloring over the years. Additionally, deep cleaning ensures a more hygienic surface in a kitchen and bathroom! However, you might exercise caution about homemade tile and grout cleaners. Not all offer an effective clean and some can damage those materials.
With this in mind, you might check out some advice on tile and grout cleaning in RI for your home. This information will ensure you keep those surfaces clean, pristine, and damage-free! Also, remember to discuss any questions with a professional floor cleaner near you. He or she can offer even more great tips for maintaining your property.
What Is the Best Homemade Tile Grout Cleaner?
To clean tile and grout, first sweep and then damp mop the floor. This will remove any loose dirt, dust, and other debris. Next, mix 1/2 cup baking soda, 1/4 cup hydrogen peroxide, and 1 teaspoon dish soap. Put this mixture in a spray bottle for easy application.
Spray this cleaner over your floor's tile and grout and let it sit for at least five minutes. Next, use a nylon-bristled brush and scrub the floors, including the grout. Lastly, use clean, damp rags or a clean mop head and rinse the floors entirely.
For faded and gray grout, first use undiluted peroxide and spray just a small amount over the area. Second, let this sit for several minutes and then rinse. Also, you can repeat this process as often as needed until the floors are clean!

Is Hydrogen Peroxide Safe for Grout?
Not only is hydrogen peroxide safe for grout, it's often the only cleaner that helps restore the material's brightness! Homeowners often mistakenly use bleach on grout when peroxide is more effective for getting the material white again.
Additionally, peroxide and baking soda create a foaming action that helps lift trapped dirt and grime. This process is not only safe for grout, but it also removes more dirt than mopping alone. You can also mix baking soda and water for a paste that helps clean surface dirt.
Does Vinegar Damage Tile Grout?
Never use vinegar to clean tile or grout! Acidic vinegar penetrates air pockets in grout, weakening it over time. In turn, your grout literally deteriorates when exposed to vinegar repeatedly. Also, note that vinegar doesn't clean grout and tile as effectively as other materials. Consequently, it's best that you use other materials and mixtures to clean tile and grout.
Does Toothpaste Clean Grout?
White, non-gel toothpaste is an excellent grout cleaner! The same bubbling action that helps clean your teeth also lifts dirt from grout to its surface. In turn, you can get a deep clean when you use toothpaste on tile grout.
For best results, add a line of toothpaste to dry grout. Next, use a dry toothbrush with stiff bristles or a standard scrub brush and scrub those tiles. Be sure to work the toothpaste into the grout as much as possible. Lastly, rinse with a clean, damp rag or mop head.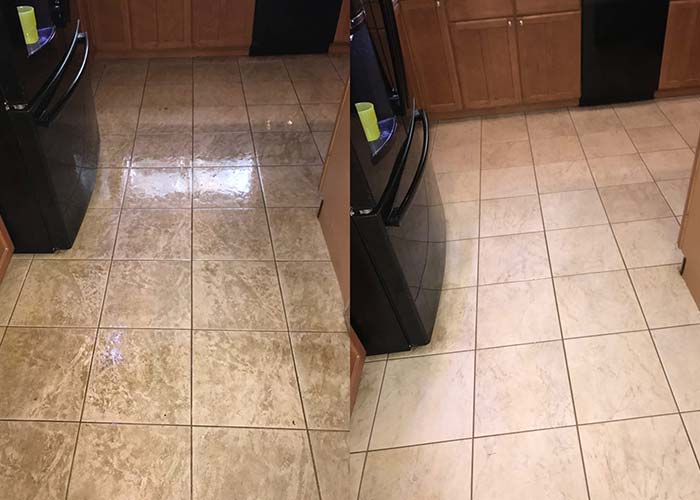 Does OxiClean Clean Grout?
OxiClean is advertised as an eco-friendly tile and grout cleaner, designed to restore grout whiteness. To use OxiClean, mix in a bucket 2 to 4 tablespoons of the material for every 2 cups of warm water. Next, don't simply splash or spray this mixture but apply it with a sponge. Be sure to press that sponge into the grout, for a thorough saturation.
Let the OxiClean sit on the grout for about 10 minutes. Then, scrub the material with a toothbrush, rinsing it often so you don't push dirt back into the grout. Lastly, use a clean, damp rag to remove the cleanser and dirt.
How Do Professionals Clean Grout?
Most professionals use commercial-grade cleansers and rotating brushes to clean tile and grout. These cleansers seep into grout and tile pores, lifting trapped dirt. Scrub brushes also make quick work of loosening dirt and grime deep in tile and grout itself.
Some property owners might assume that professionals use steam to clean tile and grout. In reality, steam can loosen grout from the subflooring beneath it. In turn, tiles might loosen and then slide out of place. Steam might also strip away sealants and other coatings.
Carpet Cleaners of Rhode Island is happy to bring this information about tile cleaning in RI to our readers. For a deep, thorough floor cleaning, call our professional Rhode Island carpet cleaning contractors. We ensure to use the best cleansers for a property's tile and carpet materials and guarantee a thorough, damage-free clean. Additionally, we start every project with a FREE quote and consultation. To get started, just give us a call today.